Investments in cleantech will charge ahead in 2021
Read why electric vehicle, battery, solar, wind, and other Greentech and Cleantech stocks will have a great year in 2021.
The leaves are falling, and the election is now just 3 weeks away. Yes, 2021 will be here before you know it. And so it's time to sell some stocks for year-end tax purposes. It's also time to buy stocks to gain a jump on 2021.
Investing in basket of stocks in a single market niche like cleantech has definite benefits. As an investor you'll gain a high-level view of the market niche, including an understanding of emerging technologies and market trends. You'll also gain an understanding of the competitive advantages, strengths, weaknesses, opportunities, and potential threats for many individual companies. As an investor, your "competition" is other investors. Those armed with a more astute understanding of the investment niche and the companies within that niche have a big advantage.
A formally bumpy road is now smooth
I know, I know. Stocks in this niche have a (very) bumpy history. When the "cleantech"/"greentech" market was in its infancy back in the late 1990s, and up until very recently, stocks in the space vastly underperformed. In fact, most were a disaster for those who weren't either short term traders or were short the stocks. Fortunately, I wasn't investing in them back then. Sure, I looked at some of them when they had their pops, but I always took a pass. Companies were big on promises but low on revenues, which is never a good combo for investing. As a result, cleantech stocks drew an "L" shaped curve and that's "L" as in loser.
However, nothing stays the same…and that's absolutely true for Cleantech stocks.
---
The winds are changing. Cleantech stocks had a solid first half of 2020. Then they began to really breakout in the summer.
The chart below shows the QQQ vs. clean energy and solar funds, and there's no denying the strong uptrend that's starting in the clean and green space.
3 month chart of

Invesco Solar ETF (TAN) = 61% gain
iShares Global Clean Energy ETF (ICLN) = 45% gain
Clean Edge Energy Index Fund (QCLN) = 38% gain
PowerShares QQQ = 9% gain
---
Advances in technology make "green and clean" an economical alternative to black and dirty
The technologies used in much of cleantech have made an evolutionary jump in the last 2 years. Renewable energies now provide 23 percent of US power generation, compared to coal's 20 percent share, and that growth will only continue.

Tweet
The U.S. Energy Information Admin. forecasts that renewable energy will be the fastest-growing source of electricity generation for 2020.
Tesla is advancing battery technology to the point that they'll begin selling a $25,000 car in 2023.
A $25,000 EV is game, set, match for the internal combustion engine. And not only is initial cost of ownership plummeting, electric cars will be cheaper to own than non-electric ones over their life span according to Consumer Reports this month.
---
Advances in solar and wind technology
Additionally, solar technology has made very recent and very significant leaps forward. The ultimate upside potential for floating solar farms is still unknown, but installation costs of floating solar panels are less than land-based panels while power production of floating panels is up to 10% greater.
The advancing technology for BIPV (Building-Integrated Photovoltaics) is increasing efficiency while decreasing costs. With an estimated $14.8 billion in sales for 2020, the BIPV market is expected to grow to $56.2B by 2027.
3D printed solar panels are also coming along. They capture 20% more sunlight and cost 50% less than traditional panels.
Converting wave energy into power has amazing potential as you can see in this video.
And this is just scratching the surface. Books have been written on how far solar technology has advanced in just the last 12-24 months. Suffice it to say the technology has now improved to the point where green and clean is now a cost effective alternative to black and dirty.
---
Like EV, battery, and solar technologies, the technology used in wind power generation has taken huge leaps in just the last year or so, reducing costs while increasing efficiency. Larger, lighter, stronger turbines are being made every year. Moreover, the use of digital twins allows for real-time data and remote monitoring. This reduces downtime and maintenance costs while increasing production.
Do you doubt the rise in cleantech and cleantech stocks has legs? Consider this: The largest solar and wind power generator in the world is NextEra Energy. NextEra just passed ExxonMobile in valuation last week and advances in technology are why.
The fact is, every market niche in cleantech has had recent breakthroughs in technology that lower costs and increase efficiencies. Cleantech stocks will continue to outperform as a result.
---
The other force that will drive cleantech stocks higher: Changes in society
Public opinion plays a critical role in the American response to global warming.
With the technology now here for green and clean to effectively compete now with non-renewables in cost, the second driver in the space will be society itself. American societal positions on climate change and the role humans and non-renewable energy have on climate has changed as dramatically. This is a very recent change and it's transformational for the space.
No longer the domain of progressives, hipsters, and the liberal wing of the Democratic party, cleantech has gone mainstream. By a nearly two-to-one margin, today's young Republicans are more likely to agree that human activity contributes a great deal to climate change and the federal government is doing too little to reduce the effects of climate change.
Almost 7 in 10 Republican adults under 45 said that human activity is causing the climate to change. That's a sea change from just 2-3 years ago. Even U.S. representative Matt Gaetz, who is about as far to the right as you can get on other issues has seen the light. Gaetz has stated
Climate change isn't something people get to choose to believe or not. It's happening. I can tell the earth is warming based on overwhelming scientific evidence and I don't think it's a coincidence that we've released 300 years of carbon in the last several decades.
And so, 67% of Americans now say the federal government is not doing enough on climate change. It's hard to get 67% of Americans to agree on anything, but they agree on this.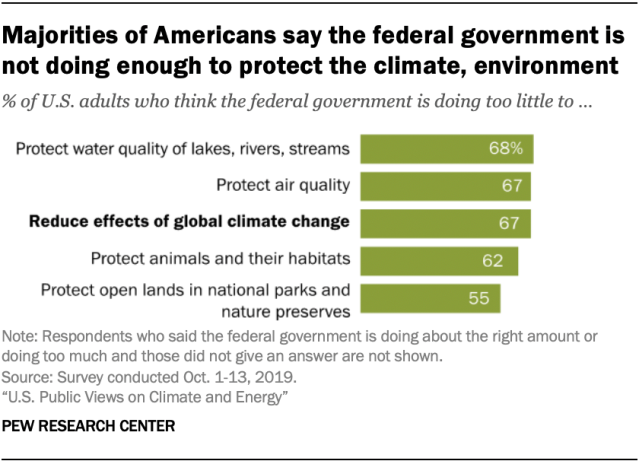 Moreover, the 2020 election looks increasingly like a Biden win. Trust the polls this time, as it's all about COVID and social unrest where Biden holds big advantages.
The potential for a Biden/Democrat win aside, large majorities of all registered voters now support:
Funding more research into renewable energy sources such as solar and wind (87% of registered voters, 96% of Democrats, 81% of Independents, and 77% of Republicans).
Generating renewable energy on public land in the U.S.
(86% of registered voters, 94% of Democrats, 79% of Independents, and 79% of Republicans).
Providing tax rebates to people who purchase energy-efficient vehicles or solar panels (82% of registered voters, 95% of Democrats, 68% of Independents, and 70% of Republicans).
Regulating carbon dioxide as a pollutant (75% of registered voters, 92% of Democrats, 62% of Independents, and 59% of Republicans).
While differences remain on best practices for addressing climate change, the groundswell in bi-partisan support for action is clear. As a result, there will be ever-increasing pressure for serious climate action at the local, state, and federal levels.
---
In summary
Cleantech stocks began gaining traction in the investing community earlier this year. The trend is firmly established. Moreover, it will continue as technology improves and societal pressure for climate action increases.
Going forward, I'll be writing about the best cleantech stocks for 2021 and beyond.
Subscribe now (it's free!) and join me in investing smart, investing green and clean, investing cleantech.
Gary Anderson
Publisher
Follow on Twitter Follow @cleantechstock